It does smell summer and as the PR Manager of Aphrodite Aroma I suggest….
Versace, Yellow Diamond Intense
They say that everything starts from the packaging and the House of Versace does know how to make a packaging really special. Imagine my excitement when I opened the purple box with golden details just to discover an amazing bottle with a very aristocratic design.
On the cap of the bottle I could see the head of the Medusa which is the logo of the brand which is engraved giving to the whole perfume more glamour while the shape was nothing else but a yellow diamond. The bottle is designed in such a way that gives you the illusion of a trapezium upside down which I find magnificent.
As for the perfume itself, what can I say? Well read this carefully. I have been a fan for the last four years of the well known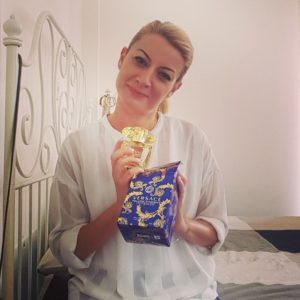 Eau De Parfum "Si"by Armani. Well, I confess now! I have found my new favorite perfume! Yellow Diamond Intense it is!
A perfume that reminds of sweet summer sunsets, with notes of jasmine, bergamont and freesia. My personal opinion is that it is the ideal summer perfume for every woman that wishes not to just look but also feel elegant.
On the other hand, if you find Yellow Diamond Intense too intense you have the choice of trying the Yellow Diamond which is a smoother version. Anyhow, I am so happy that I found my new perfume for the summer and it does smell amazing.
If you wish to have this perfume you can always visit the Aphrodite Aroma website which is www.aphroditearoma.com purchase the perfume and have it at your door the same day. I kept the best part for last. This beautiful perfume costs 65€ for the 100ml bottle, whereas the retail price at shops is 107€.
Yellow Diamond Intense by Versace for a summer full of glamour and elegance.
1,504 total views, 1 views today