Angel and Alien by Thierry Mugler…what would you choose? 
When Thierry Mugler moved to Paris at the age of 24 he would have never imagined the turn his career would take! As a freelance designer he created pieces for fashion houses in Paris, Milan, London and Barcelona. During the 1980s and 1990s, Thierry Mugler became an internationally recognized designer, and his collections garnered much commercial success. He also created the famous black dress worn by Demi Moore in the 1993 movie, Indecent Proposal. Mugler also directs short films, advertising films and video clips. He also directed the first advertising film for one of his fragrances, Alien.
Mugler's first perfume appeared in 1992 and was called Angel. "Angel" contains a combination of praline and chocolate mixed with a strong accord of patchouli. The Angel bottle, has the shape of a faceted star. Fans of the fragrance include Diana Ross, Barbara Walters, Eva Mendes, and Hillary Clinton. In 2005, Alien was created, the second major Thierry Mugler fragrance. Angel and Alien together produce about $280 million in sales annually.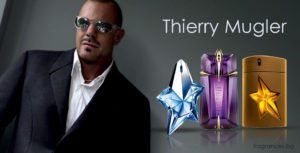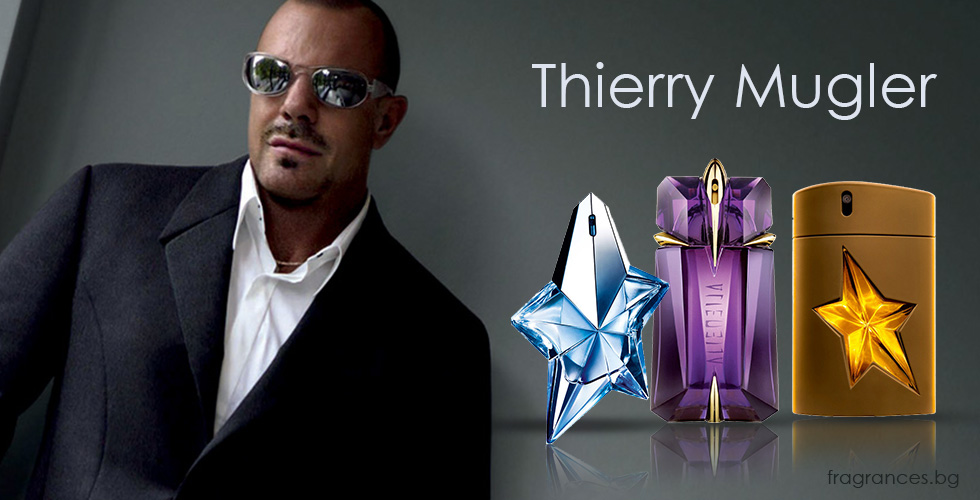 The ALIEN PERFUME is irresistibly appealing and out of this world, mysterious and fascinating. The Alien perfume is a rich bewitching essence that illuminates and reveals the feminine power. The rich notes of this women's perfume parallel women's strengths: powerful jasmine and cashmere wood, rich and mellow white amber create a fragrance to unleash every woman's celestial being. Marian from New York commented "I have been using Alien for 6 months now and I am totally and completely addicted!! Everywhere I go I am always asked what you are wearing. One lady told my husband I am just following your wife around because she smells so good!"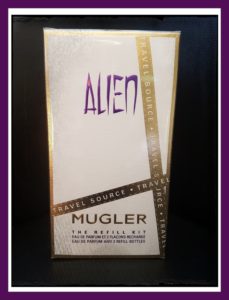 The ANGEL PERFUME is the winner of FiFi Awards Hall of Fame 2007. It is a perfume by Oriental Vanilla and has notes of bergamont, pineapple, melon and coconut while the notes of orchid, jasmine, rose, sandalwood, chocolate and caramel blend in an exotic way which made Tania Sanchez confess ""Although Angel is sold as a gourmand for girls, spoken of as if it were a fudge-dipped berry in a confectioner's shop, it's all lies. The effect kills the possibility of cloying sweetness, despite mega doses of the cotton-candy smell of ethylmaltol. Like a woman in a film who seethes, "He's so annoying!" and marries him in the end, I returned to smell Angel so many times I had to buy it."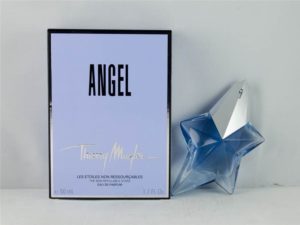 You can find the Thierry Mugler Angel at a special package with 50ml of Eau De Parfum plus 2 refills of 50ml each at the amazing price of 120€ (while retail price at shops is 150€). Furthermore the Thierry Mugler Alien for the price of 120€ (retail price 150€) with 60ml Eau De Parfum plus 2 refills of 60ml each can be purchased at www.aphroditearoma.com the first online perfume shop in Cyprus! Aphrodite Aroma guarantees free of charge next day delivery! Mind you that if you are a new client, upon registration 10€ will be deducted from your purchase! Are you still thinking of placing an order? Spoiler: Already done!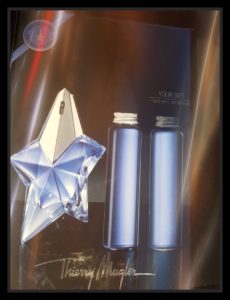 So… Angel or Alien? What would you choose?
9,761 total views, 1 views today