Gucci Guilty for Her and for Him…with a bit of history in between!
The House Gucci was founded by Guccio Gucci in 1921. Inspired by the beautiful luggage he had seen travellers carrying while working at the Savoy Hotel in London, Gucci returned to Florence with a goal. His goal was to combine the refined elegance of the wealthy travellers he observed with the fine craftsmanship of traditional Florentine artisans.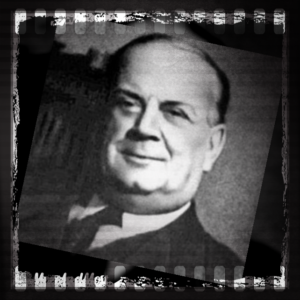 The company's equestrian-themed quality leather goods were in high demand. During World War II leather was hard to be found so Guccio Gucci became very innovative. To create his luxurious bags he used hemp, linen and jute and expanded the brand's aesthetic. Guccio Gucci passed away in 1951 but his sons and grandson oversaw the successful expansion of the company into a luxury goods manufacturer known around the world. The company's signature the double "G" logo was adopted in the 1960′ s and we have witnessed it coming back radically during the last two years.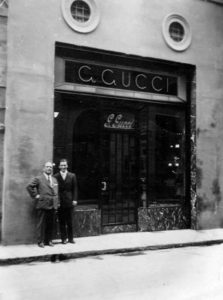 The company's first fragrance, Gucci No.1 for women, was introduced in 1974. A series of fragrances for men and women have since then been launched. Gucci has 68 perfumes in its fragrance base. The earliest editions were created in 1974 and the newest perfume was created in 2018 by the creative director Alessandro Michelle himself and is called "Bloom".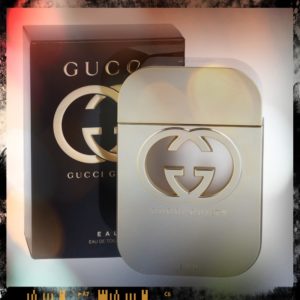 As for the amazing Guilty by Gucci for Her, it was released in September 2010. It will soon celebrate its 8th birthday. The fragrance was designed for the glamorous, daring, brave, and very sexy girls who like to party and enjoy themselves. Young girls and women who don't believe in conformity or in submitting to labels or gender rules. They break free from common social boundaries. Gucci Guilty contains the notes of mandarin, pink pepper, peach, lilac, geranium, amber and patchouli. Gucci Guilty for Her is defined by a signature Fougère accord of Geranium usually found in men's scents. Intimate and magical lilac flower is laced with amber to radiate warmth and grace at the fragrance's heart.
At the same time the brand made sure that Gucci Guilty for Men was created with a youthful, charismatic and fearless tone. Gucci Guilty for Him fascinates with intense notes of mandarin and lemon citrus and fresh lavender. The energetic notes of crushed green leaves mingle with these scents, and pink pepper brings an enticing spiciness to the blend. Bold and masculine with a whisper of danger woven throughout, Gucci Guilty Pour Homme is a distinct experience. If you really want to impress those around you by your smell, remember to incorporate the Gucci Guilty scent into your daily routine with all-over shampoo. This shampoo is designed to be used on hair and skin alike, for over-all clean in just one bottle. Don't forget the After-Shave lotion, as well as the Deodorant stick to help your favorite scent linger throughout the day.
Find the above excellent perfumes on www.aphroditearoma.com for the even more amazing prices: Guilty by Gucci for Her 75ml at 78€ (retail price 98€) and Gucci Guilty for Men 90ml at 64€ (retail price 95€). Enjoy next day delivery free of charge and remember that if you are a new customer you will receive upon registration a 10€ discount on the price of the perfume you chose to purchase.
6,775 total views, 1 views today