The film that won the first prize in the National Films Competition Section at the 16th Cyprus Film Days International Festival by our very own Simon Farmakas. 
I had the pleasure to be at the opening night of the Cyprus Film Days and Sunrise in Kimmeria was the opening film of the night. 
I saw a lot of my fellow actors who participated and right there I saw my so talented – and a few years back, my very own – film director, Simon Farmakas. I had not seen him for more than 5 years. He was still the same tall, handsome guy with a big smile and eyes lit with fire. I was happy he was wearing a jacket and a shirt and not his Hawaiian shirts for a change and he had a nice haircut for once! Simon worked for three years on his movie. His brothers, Stefanos, Antonis and his sister Joanna were all in the production and they all helped their young one to the most. 
They were all there now, supporting him and encouraging him. It was his night and we were all eager to see his amazing work. And right there we saw each other and with the classic Greek way we called each other's names louder than expected and got lost in bear hugs and how are yous and what have you been doing and how you have changed.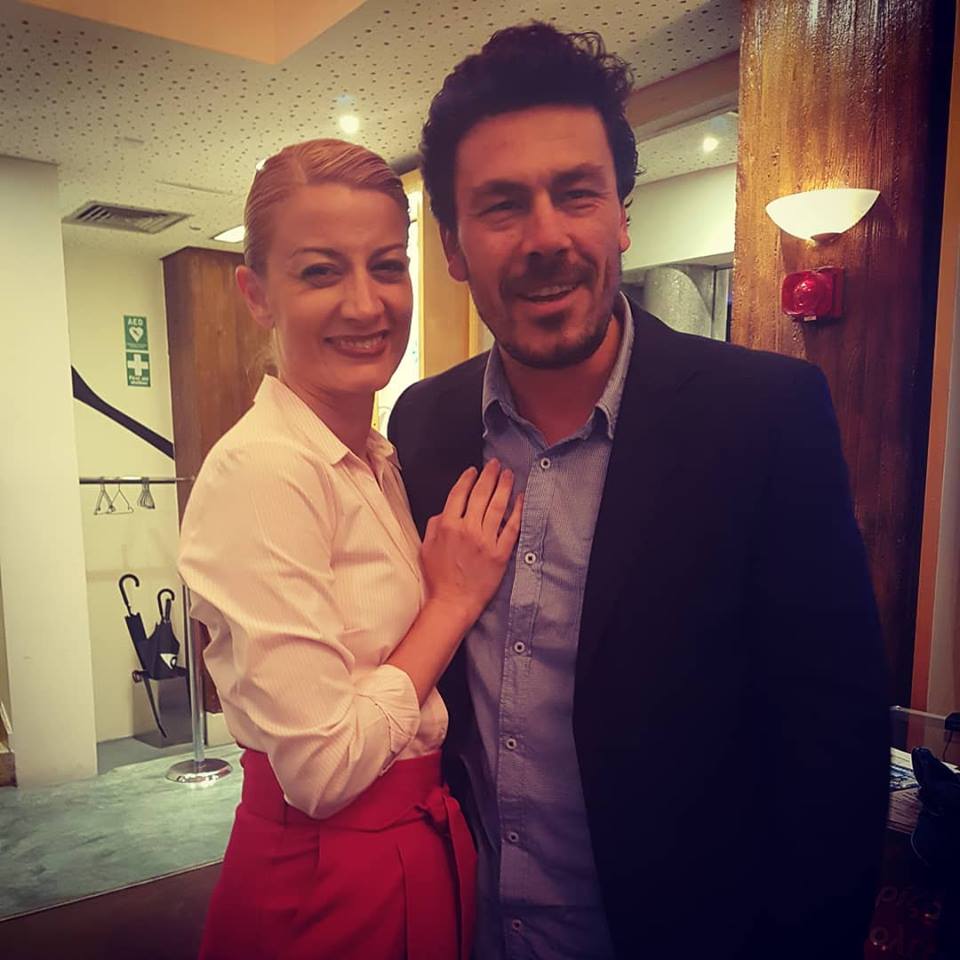 "He looks exactly like their father…"I thought to myself…and I knew immediately that the film would win. He has the talent of his father and the British manners of his mother with a touch of Cypriot innocence. 
In the theatre we all sat down and after the ceremony the screening started…
It is an amazing film that reflects society in so many ways…we laughed so hard with the good sense of humor the film had. The script is well written along with the dialogues. Everything is clear and every story has a meaning and a reason to be there. Now you might wonder what it is all about…Well as Simon wrote: 
"A mild-mannered young villager gets caught up in tragicomic circumstances, after a strange sphere, tracked by a foreign intelligence agency, crashes into his potato field".
But Kimmeria is much more…especially to us that were lucky enough to get to know Simon and his family…First of all, Kimmeria was a place in the North as Homer describes it where there was always darkness. Once a year there was day light and that was the time that the gates of the Underworld opened and humans had the chance to meet their loved ones who had passed away. So does the protagonist of the film played by talented Athos Antoniades. Through the tragicomic events he faces he makes a life changing discovery. And suddenly Kimmeria becomes his destination hoping to find the answers he always wanted…
"So now  I know…how much you miss her and that is why you are hoping that in Kimmeria you will meet her my friend…"
1,479 total views, 1 views today