Sounds a lot easier than finding that perfect pair of Louboutin high heels and combining them with the right bag…Well, in my opinion finding that perfect aroma is not that simple. Have you ever wondered why we choose a perfume? Why do we change a perfume or stick with a perfume (like myself) for over 2 years? Because the smell that catches our attention is the one that we want to be defined with, to be recognised with…My son always tells me that he loves the way my pillow smells of mommy (well I suppose every child says that, even adults…) but when I ask him what exactly I smell…he cannot define it…he just says "beautiful". 
And that is how I know now…we define on how we want to smell and how we want other people to remember us or recognize us by our own very special smell. We choose a perfume based on how we want other people to perceive us and see us…If I want to be perceived as sexy then I choose a strong perfume like Montale Paris. If I want to be more sophisticated then I will go for something classic and expensive like a Chanel or Hermes but if I feel more romantic I would choose a Lancome or an Armani. 
Our perfume defines and completes our image on the outside world. A good perfume is what draws the attention; it is what makes people remember you and along the rest of the accessories on you which complete your personality, place that special touch that you have decided to share with the world. 
Choosing a perfume has never been easier! What if you had the chance to choose between 4,000 perfumes from 80 different brands, having the perfume delivered at your place and having the opportunity, before you buy it to order samples to smell different options if you are not sure which one you want…yes I know! Amazing! 
Well, this can happen! Aphrodite Aroma is the first online perfume shop in Cyprus and has so many brands that you will adore their website. They deliver free of charge within 24 hours but I kept the best for last…The prices…Yes, money is always an issue even if you are a billionaire because you simply do not want anyone stealing your wallet. 
Visit www.aphroditearoma.com and you will be thrilled that the prices are 30%-60% lower than the prices in different cosmetics and perfume shops. The company has special offers all year around whereas gaining a Loyalty Card will give you more presents and discounts!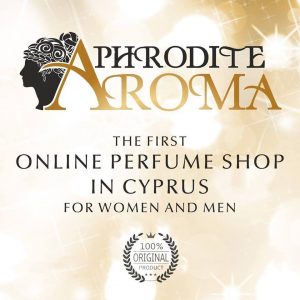 I am so thrilled about this new website and I have tried it. Everything is secure through PayPal or even paying at your door when you receive your perfume. Customer service is excellent whereas After Sales Service, is always there to double check that you are happy with the perfume you purchased while informing you about your loyalty points, vouchers and gifts you are entitled. Following the GDPR legislation for the protection of personal data, Aphrodite Aroma is one-step ahead as it has secured in the best way the anonymity of its customers. 
My advice? Go ahead and search for that perfect perfume! Leave your perfume mark in the world! 
1,585 total views, 1 views today