Elounda Crete…my absolute destination!
Summers are always about Greece! I taught my son that winter time we travel around Europe but summertime is dedicated into discovering the beauties of Greece! So many islands and so much history in our very own diamond of the Mediterranean. Last year due to a friend's baptizing we discovered this magical by the gods of Mount Olympus sent place, called Elounda and the even more astonishing Elounda Beach Hotel!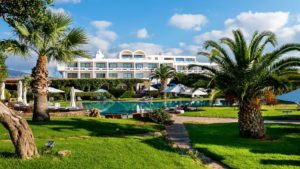 Travelling there at the beginning of July was quite easy! Direct flight from Larnaca International Airport with Cyprus Airways arriving at Heraklion Airport and from there a 45 minute taxi drive to arrive at the hotel. We were greeted by the locals with smile and enthusiasm. At their ears our Cypriot dialect sounded like music and having my father with me the topics of discussion always ended with brotherhood stories between Greece and Cyprus and how they fought in this and that war.
My little one was excited about the large swimming pool near by the restaurant where we would have our breakfast and dinner whereas upon discovering the private sandy beach with more children to play with, he was over the moon (so was I). After sorting ourselves in our rooms which are absolutely elegant and decorated with a touch of classic luxury, we put on our swimsuits to head to the beach.
Walking along the greenery and the colorful flowers I could not but feel relaxed…finally holiday time was here and I could finally shut down for a few days, enjoy quality time with my son and charge my batteries.  A sudden "mommy look" loud voice brought me back to reality! My son was pulling me towards…I did not quite understand where… only to find myself standing in front of a green door…
"Look mommy! It is here where the teachers are…like the other hotel!"
I smiled! My son had just discovered the Kids Club of the hotel and was hopping up and down with excitement. There were three lovely ladies there – all teachers mind you – that very politely explained to us the schedule the children had every day with them. The kids club opened at 10a.m until 6.30p.m. every day, the children would make activities like painting, crafting, maths or play football, volleyball and other sports, have lunch and rest at 1.30p.m. until 2.30p.m. and then go back to continue their games until around 3.30 that they would do games and competitions by the beach until 6p.m. My son was over the moon and I thought to myself "this sounds fun while I can watch him within the distance". Well, I thought that he would soon get bored and want mommy to be with him. I was so so wrong!
Mind you that the next morning he woke up at 7a.m. demanding to get dressed and go to "summer school" because he did not want to miss what the "teachers" would tell them and he did not want to be late. I was so happy for him…he was having fun all days that we stayed there. He made lots of new friends and spoke English and Greek while taking him for a shower and dinner every night at 6:30p.m was a struggle! Those "5 more minutes' mom!" became a nightmare!
When we would finally get ready and meet the rest of our friends for dinner the friendly staff would always found ways to make the children feel they could have fun around the premises, while they would advise us where to go and which were the best local products to buy.
Within the few days we spent in Elounda we visited Spinalonga which was the leper's island and had a nice tour there. We were mesmerized being there as we knew about the place from a tv series we were watching and from books. Being there and actually seeing the houses, the objects and trying to picture how life was for the leper society…it is just…it is a lifetime experience. We also spent a day at Agios Nicholaos for some shopping and good fish while our nights were enjoyable and relaxing at the lovely bar of the hotel which is lying afloat in the sea.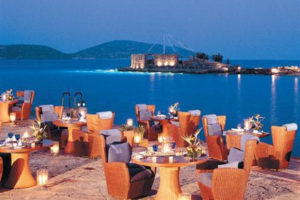 The baptizing was serene and well organized while the party ended in the early hours of morning with lots of Cretan music and dancing! On the way back during our flight I was so delighted when my little boy told me "Mommy, I want to go back!"
"Me too!" I responded.
1,309 total views, 2 views today