Why should we be wearing our favorite pair of jeans more often?
The world has come to a stop the past few weeks due to the COVID-19 that came to change once and for all our lives. Not only people but entire countries and nations need to self-isolate to protect themselves and their beloved ones, meaning that all of us need to #stayhome, #statyafe!
What does stay home means though?
We all came to realize how staying home gave us the once in a lifetime opportunity to connect with ourselves first, with our beloved persons and spend indeed quality time with them. Some of us became very creative, others learned new skills, developed new hobbies while some are getting ready for the next Masterchef with all that baking and cooking! Others feel lucky that they can work from home and the best is that they can be in the pajamas all day long! Wow! Lucky indeed! Or not?
You see, yesterday morning, I woke up, I made sure to complete my 40mins workout at home, took my time in the shower, did my makeup, could not bother about the hair so turned it into a messy bun, put on my favorite pair of jeans and added some color by wearing my yellow top and white sneakers. And that was when it hit me! I felt so beautiful with myself! So bright and positive! But at the same time, I took a moment to look and 'measure' myself in the mirror!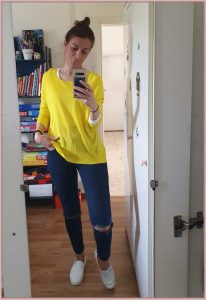 What do I mean? The pair of tight jeans I am wearing as you can see in the photos, has a very special mission! It is 'that' pair of jeans which when I am wearing, I know, and I do know, if I have gained weight or not and where exactly! So, this was my inspiration for the specific article.
Taking myself as an example, being at home and having the family around my diet has slightly changed. I cannot follow it in the same strict manner that I would while being at work and at the office because that would mean I would avoid sitting with them at the table and avoiding every single food that I would have prepared with love!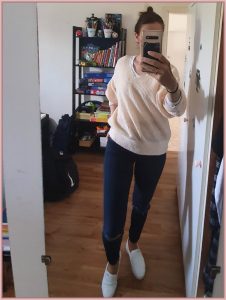 Putting on my jeans on yesterday morning made me realize that I should be wearing my tight jeans from day to day just to keep track of my weight, besides the morning visits to the scales and see how comfortable I feel with my body. That was when I thought of some of my friends, who work from home and have been saying to me, that during the day, sometimes they do not manage to get out of their pjs!
Now, be alert my dearest friends because I am watching you! I know that pjs are so so comfortable and warm…you simply want to live in them! Let along the effort of getting your thighs into a tight pair of jeans…oh come on! Besides, who will see us? We are home all day! Working, playing with the kids, cooking, baking…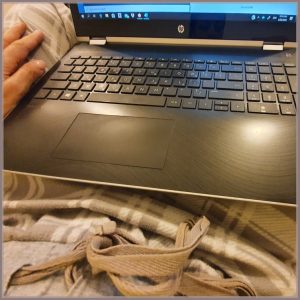 Aha, I just said the magic word! Baking! All of you (including me) do not dare to deny it! You (we) have been baking muffins, banana cakes, chocolate cakes, waffles and that jar of Nutella and Peanut Butter are by your side table next to your bed! Comfort food, home isolation, Netflix… I know life couldn't get any better ha? But you missed one little detail! Wearing those pjs, will never allow you to realize how much weight you are gaining day by day, slowly slowly, no matter how many promises you make about eating healthy the next day and especially if you do not go your local gym anymore and avoid any exercise. (Nope, collecting your kids' toys from the floor is not an exercise!)
I was quite happy that everything could still fit in my jeans although my tummy is not flat anymore… well, we cannot avoid some sugar which is flying around the house these days! But that pair of jeans certainly made me realize that I need to set a target of making that tummy flat by setting a goal to achieve it within 7 days. No sugar since yesterday and we are going strong! Those jeans will be the fashion police checking soon!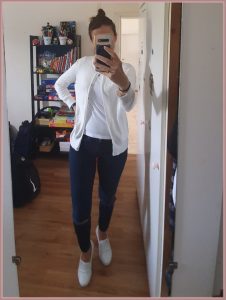 Wearing my jeans and being casually dressed also made my day! My partner told me that I looked very cute and full of light! My psychology changed! My confidence was boosted! I did so many things during the day by just dressing up!
So, perhaps you could try this, one of these days! I mean I set my own target by wearing the blue tight jeans twice a week, just to be sure that I am keeping the same weight and my confidence in the right level.
Then I got more inspired and thought to try out some options with the blue jeans with different tops to inspire and motivate you. As it is Spring I tried to add some color while mainly I remained to the soft, beige, white and pink colors which always make me feel chick and filled with light.  I took the photos you see, to share ideas about how to not only wear your blue jeans but also on how to get more into the 'spirit' of Spring time – although we need to stay home!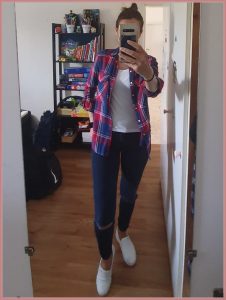 I hope you enjoy the photos and the ideas! I hope I can offer you some inspiration and a couple of smiles on your face! You can email me with your photos of wearing your favorite pair of jeans and I will share them on my social media at: paolahadjilambri@gmail.com
Feeling good at these difficult times is essential! And as I always say "Dress Up, Show Up and Read Up!" ("Read Up" because you will always need new ideas and inspiration for new outfits!)
Stay home, Stay Safe, Stay Healthy and take care of yourself on the inside as well as on the outside! Take the time to pamper yourself and feel beautiful…so beautiful that when you look yourself in the mirror you will say nothing else but "Hello Gorgeous…"
1,038 total views, 1 views today