My Top 5 Summer Books
I love reading books… I must have said it like a thousand times already.
I also love reading books in the summer. It is the best way for people to relax and keep their mind away from work for a bit.
This summer though I wanted to read books that would give me something back besides a beautiful story with a happy ending and some nice plot changes. During my travels I always pick one book from the airport – or two maybe – that I add on my bookshelf in my room to read later. It is nice when I open them and I see the date and the country I bought the book from. For instance, 'Becoming' and 'The 5A Club' was purchased from Johannesburg Airport and I have to tell you something… the variety they have in that airport bookstore is just wow! 'Lean In' was bought from the JFK airport a year ago and for some reason it stayed on my shelf next to the other book I am soon to start by Sheryl Sandberg 'Option B'. 'The Communication Book' and 'The Art of people' were my latest additions from my trip to Munich for a wedding. I devoured both of them!
Don't you just love connecting your books with the airports you have been?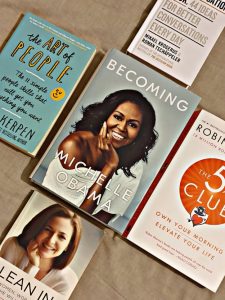 So I chose the 5 books that actually left something in me, taught me valuable lessons, new techniques, made me realize some of my mistakes as a human being but also as a professional and above all gave me hope and good advice!
So here is my list:
Becoming by Michelle Obama: 'When they go low, we go high.' Said this inspiring woman who never liked the game of politics but had to endure not one but two presidencies of her husband Barrack Obama. Michelle Obama sets the example on how us women can have a real impact in this world as mothers, women, professionals, politicians, artists and so much more. She believes in opportunities that a good education gives to young people. I loved the way she tells her story. It feels as if you went out for coffee with her at Starbucks and she is telling you all about her days when she used to be First Lady. I loved the part where she met the Queen of England and they hugged one another with Michelle breaking protocol. They also whispered something in each other's ear and they smiled back to one another. What exactly that was? A common thing that us women always tell one another at weddings, parties and social functions 'These shoes are killing me! I just can't wait to take them off!'. Michelle Obama tells her story with honesty. She shares her worries about her husband and about how her daughters would be affected by being the children of the President of USA. She is a remarkable woman! She managed to plant a vegetable garden in the White House and that is from where they were cooking their food and made their salads! She did a lot more! A lot more which are still going strong and high and are out there giving opportunities to young women and men to fulfill their dreams. This book is a must read and a perfect idea for a gift!
Lean In by Sheryl Sandberg: 'It is ok for a man to chase his career because he is the provider. But if a woman chases her dreams to have any kind of career she will be criticized for being selfish, bad mother and usually bossy.' Sheryl Sandberg who is currently the COO of Facebook and she works next to Mark Zuckerberg has created an amazing book about empowering women. The woman shows facts and percentages and dares to touch subjects that no other woman in her position would easily even consider mentioning. Did you know that Google-where she worked for 7 years- has a parking space in front of the entrance of their offices which is for pregnant employees and all that thanks to Sheryl? Does your company have one of them parking spaces? If not, why? I admire Sheryl for the truths she writes in her book which is all about Leaning In for our dreams and goals and not stepping down because we find ourselves between family or career. We can have both! We cannot have it all she says but we can balance family and career without having to compromise and for sure without having to be paid less than any man who is doing the same work as we. She gives food for thought! Good thought! Serious stuff! I did not know that still only 4% of CEO in companies around the world are women and the other 96% are men. Maybe we should all read Sheryl's book and Lean In more often so as to finally change a few things!
The 5AM CLUB by Robin Sharma: I fell in love with this book from the very first pages! Robin Sharma manages to teach us the benefits of getting up early in the morning and following specific rituals that can actually help us in life. Two total strangers, a lady who is an entrepreneur who is in danger of losing her company and an artist who claims he lost his inspiration, meet at a motivational seminar of a very famous speaker when he collapses on stage. Talking to one another they notice a man in rugs in the room. That man will change their lives forever taking them to places they have never been and teaching them valuable life lessons and life skills. This is a book that I am definitely reading again and again. The chapters are laid out in such a way that you can always go back and read whatever is that you need to read. The result is one! You will feel better. You will be inspired and motivated to do things or change things in your life for the better. Robin Sharma has become one of my favorite writers and still I have not even read The Monk who sold his Ferrari that everyone is praising but I am sure The 5AM Club is by far his best book.
The Art of People by Dave Kerpen: Dave shares valuable lessons through personal experiences and especially in the world of the famous and glamorous people that he used to be and felt very much depressed. He is fine now and quite successful! Happily married with the woman of his dreams and a dad of two children. I loved the way that Dave writes. It's refreshing to read him and sometimes it feels like you can actually hear his voice in your ears telling you what he is telling you through the book. In his 3rd chapter Reading People he actually teaches us to stop talking and start listening to what other people have to say. He believes in people and the talents they have. I specifically liked what he wrote'The most valuable question you could ever ask in life is: How can I help you?' In the book there are 11 simple people skills that will get you if not everything at least most of what you want. I find it valuable since it helps you understand people better and become better yourself in your everyday interaction at work or at home. Plus, I loved taking the Enneagram Assessment which is at the back of the book. You need to do this test before you start reading the book in order to see what kind or type of personality you are which explains a lot about how you take decisions or how you respond in different cases and scenarios in life. The beauty of this book is that it evolves around people because as Dave puts it, people matter.
The Communication Book by Mikael Krogerus and Roman Tschappeler: I bought this book because I saw it on the desk of a colleague at work and I told myself 'I need this asap!'. I am with people 24/7 and many times I will open my mouth and magic will happen but there are a few times that I wish I had counted to 10 before I blurted out my thoughts. So this is indeed a book with good ideas about how to communicate far better with the people around you. Communication comes natural for all people at different levels. Through this book you gain some of the tools so as to become better in communicating, in explaining your ideas, in dealing with an idea that failed and move on. As the writers point out 'The essence of normal communication: we all like to be right. The essence of nonviolent communication: we are better off if we resolve a dispute than if we win it.' I read and re-read this book daily. Not all of it of course but different chapters or pages I noted down. It helps me to become better in all aspects. The fact that in the book you can find real examples from life and you can connect them with your experiences is just great. Hopefully, after my summer vacations I will return back to my office with 44 new ideas for better communication on an every day basis!
So this is my Top 5 list and as my good friend Stella Luizinho mentioned yesterday in one of her comments on social media, which I will paraphrase just a bit 'it is nice to have books that you can go back and read them again and again whenever you feel the need to, because perhaps that is what your soul needs at that specific time.'
I am looking forward for your comments and input in regards to books that you like or enjoyed reading.
If you wish to write your own review about a book you read and liked, I would love to post it on my blog and on my social media. Write, hold your book, smile, take a selfie, email me on paolahadjilambri@gmail.com and get published!
3,130 total views, 2 views today