The "after the gym"…make-up!
I love my gym workouts -we will talk about them a bit later on another post-and I hate missing a training session! Gym time means "me time"! So I take my "me" and use it to the most! I finish my workout and I enjoy a long shower at the gym and feel fresh and clean wearing a new outfit to go out to the world and continue my day! I usually pull my hair back to a neat pony tail and I apply my face cream. And leave…
Well I used to leave with no make-up feeling that I skipped or even worse that I had forgotten something! And indeed I had forgotten something! While preparing my gym bag with all the necessities I always seemed to forget my make-up bag and I always ended leaving the gym in nice clothes and shoes, smelling the finest perfume, hair done nicely and with a face that had zero makeup…Ok, what is the big deal you might say… it is not as if you were gonna go to the Oscars…
No Oscars indeed but when a business meeting followed…well I felt a bit awkward and I was trying to fix the situation by putting some lip-gloss – which was forgotten in the car – and pinch my cheeks to look healthier.
So, this is what I am sharing with you today! My little secret! My "after the gym" make-up routine which you can watch in the video I prepared for you!
As you can also see on the photo, to accomplish my goal and always leave the gym looking at my best, I purchased a small make-up bag from Mango (I just love the color and texture) with a few products from my local beauty shop and I made sure that this make-up bag is always found in my gym bag! In this way after I have my shower and do my hair I spend around 7 minutes applying my "after the gym make-up "looking fresh and healthy with a touch of glow. My video which I tried to make it as short as possible will show you the procedure!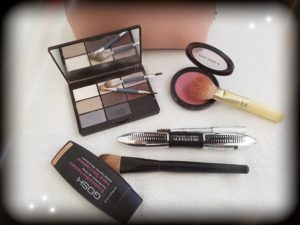 As you can see from the photo, I chose some Gosh products whose prices I find very very good! Based on my skin color I use the Gosh X-Ceptional Wear Foundation No 16, The "To be Cool in Copenhagen" 004 matt shadow collection palette by Gosh, the Natural Blush 39 Electic Pink by Gosh, while my mascara is the False Lash Superstar by L'Oreal as well as my eyebrow pencil 303 Dark Brunette. The final touch is given by a shiny golden lip-gloss by Erre Due number 07 or any other lip-balm that I use to moisture my lips. A small number of products that are easy to carry in a small make-up bag while the prices are excellent and the quality offers amazing results.
My advice is – after you have applied your day cream – to have a light amount of make-up applied on your face using a good brush such as the Morphe brand of brushes or just go the traditional way and use your fingers. Use a creamy color of eye shadow, enhance your eyebrow shape without extremes, be patient when applying your mascara for long lashes effect, go easy on your blusher always using the number 3 technique while applying it (it shows on the video) and finish up with a rich touch of lip-gloss.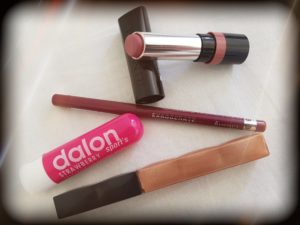 You will walk out of your gym fresh and vibrant and you will for sure make a lot of heads turn! Remember that with the same way we treat and respect the rest of our body we must in the exact same way take care of our face! Never forget to carry along with your "after the gym make-up" your beautiful smile filled with your confidence! The world is then yours to conquer!
1,528 total views, 1 views today