"Mondays at the office should be…comfortable!"
This is the thought I woke up to this morning after a very relaxing weekend by the pool with friends and family! Playing games, chatting, drinking and eating made the weekend disappear at the blink of an eye! Sunday night is always used to organize the next day and the week ahead making priority lists and making sure that my laptop is in my bag and not in my son's swimming bag! Clothes and outfits are ready hanging outside from our closets and as for shoes…well shoes are always a pick of the moment whether we have time ahead of us or whether is kind of "we are running late just put on any pair but make sure it matches!".
Mondays are always difficult to adjust! But as soon as coffee hits in, your brain is once again in the right position and ready to work and plan! You become the adult you wanted to get rid of late Friday afternoon!
So, this morning as I woke up 20 minutes earlier than my alarm clock – this is what happens when you fall asleep next to your seven year old, reading to him a bed time story at 9p.m. with the book nicely landing in your face.
And there I was in the tranquility of my home, having enough time to having a shower, making a nice cup of coffee and enjoying every sip. While putting on my outfit for Monday, I realized that I did not feel like wearing my high heels or my summer sandals – which I love as they are filled with colorful gems and match literally anything!
I was looking for options when my eyes hit my pink Nike trainers… Well, we have casual Fridays at the office but nobody thought that the hardest day to come by at work, is Monday!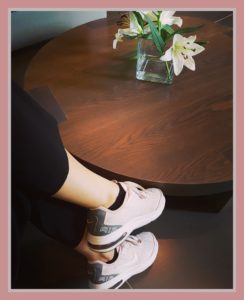 Mondays are hectic and busy and full of unexpected meetings and events! So we should at least lead our Mondays in the most comfortable shoes with a very fashionable style!
And right there I said it out loud "Mondays at the office should be comfortable!"
As I was tying my shoe laces my son woke up and came to my bedroom. He was soon asking me "Mommy are you going to the gym with the clothes you wear at work?"
"Nope, I am going to work with my most comfortable shoes, in the same way you go to school wearing your favorite trainers!" I replied.
"Well, you still look cool although you wear pink girlie trainers!" he added and left the room with me smiling.
As you can see from the photos I combined my Nike trainers with a very comfortable pair of Capri pants from Zara, a white top and a see-through cream blouse from Mango – to deal with the heat wave we had today and with the demands of my Monday at the office! I tied my hair up in a loose ponytail, put on my favorite D&G black shades and there I was ready to conquer the world! As for the make-up (check my latest article on my blog) light and natural!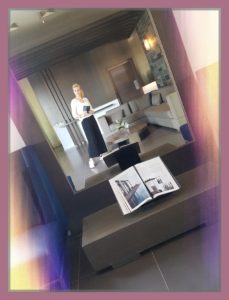 Because you can still look elegant and sophisticated wearing your favorite trainers at the office!
1,121 total views, 2 views today