"Dangerous Liaisons"a play that mirrors reality…
I love Mondays because they are usually my theatre nights! Knowing that one of my favourite directors Andreas Araouzos was coming to Paphos with his favourite play of all times, I made sure I got my tickets early so as to watch 'Dangerous Liaisons' at Markideion Theatre.
Christopher Hampton adjusted the novel of Choderlos de Laclos (1782), "Les Liaisons Dangereuses" and received awards such as the Laurence Olivier Award and was named by London Evening Standard 'Best Play' as well as gaining an Oscar for the script of the relevant movie.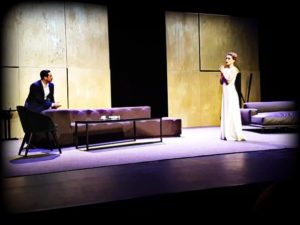 The endless strategic game between the two sexes is portrayed in the play. A love war we could say that goes through very dark paths. Vicomte de Valmont, the main character that Andreas Tselepos was spot on and lead the entire performance and Marquise de Merteuil played by well-known Stella Fyrogeni, are both aristocrats and ex-lovers who are amused by setting tasks love and vengeance to one another. The targets are usually innocent men or women that become their love victims and they get hurt in the end. It is the sick way of the two lovers to prove their loyalty, betrayal, happiness and hatred all at the same time.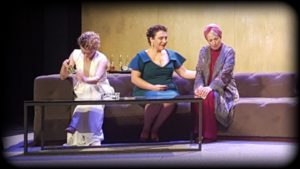 Everything was precisely directed! The actors had the exact character that suited them while the stage was organised in a modern way with the set and the furniture bringing the play to mirror today's reality.
I loved the costumes of each character and the symbolism they had. Andreas Tselepos kept his aristocratic aura with a dark blue suit and played along with his jacket by magnificently taking it off, wearing it or carrying at every situation.
Marquise de Merteuil wore a power cut white jumpsuit with a deep cleavage to replace it at some point with a similar one in black colour making her position of power obvious and solid. The fact that she was dressed in trousers and not some fancy dress purposefully showed her position among men.
Cecile the young innocent girl from the monastery that falls in the arms of seduction of Valmont wore pink and white while her shoes reminded those of a modern Cinderella. Her mother Madame de Volanges was in a deep green tight dress showing purposefully her cleavage and resembling all mothers that so eagerly want to marry their daughters with a 'well-known and settled financially' young man was given by Anna Giagkiozi perfectly. The loving aunt of Valmont, Madame de Rosemonde was played by our very own Lenia Sorokou who portrayed the wisdom and ethos of the lady who knows how much love can hurt if not channelled in the right way.
Niki Dragoumi who played Madame de Tourvel in her silk blouse and pastel colour cardigan and light blue midi skirt, resembled perfectly the fragile and ethical character of the married woman that gives a huge inner struggle to resist the flirt of Valmont but in the end cannot help it and falls under his spell. She is the one though who will make an impact on Valmont who falls in love with her and ends up hurting her.
Danceny the music tutor who falls in love with Cecil becomes a toy of pleasure in the hands of the Marquise. Him and the character of the servant of Valmont were the youngest characters on stage and they were very adequate and spot on to what they represented.
The play, although long, as it lasted nearly two hours with one intervention in between, kept our interested at all times. We held every word the actors expressed and laughed at every gesture, face or body reaction of Andreas Tselepos who magnificently gave to Valmont a touch of a humorous side. Some scenes were shocking for a part of the audience but we all knew they are very much happening in our reality.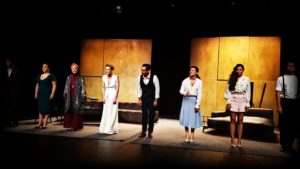 Without a bit of exaggeration, I truly believe that this play is one of the best accomplishments of Andreas Araouzos who is not only directing excellent performance but he is always a professional and a gentleman towards not only his actors but all the way up to the very last technician that works for the performance!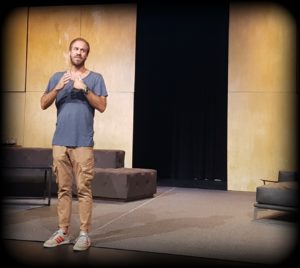 As for my friends and myself…we had a beautiful Monday night out and yesterday's coffee time was all about the performance with one question 'When are you taking us to the next one?'
Well… Shall I make the question myself? Andreas..?
p.s(The best part was that the performance was for charity! It was organised by the Round Table 7 Paphos and the theatre was a full-house!)
1,851 total views, 1 views today