Jean-Paul Gaultier a multifaceted personality we love! 
Jean-Paul Gaultier is a French haute couture and prêt-à-porter fashion designer. He was the creative director of Hermès from 2003 to 2010. Gaultier grew up in the suburb of Paris. He spent hours at his grandmother's house drawing his imaginary fashion collections and also listening to the gossip of the ladies visiting their Parisian house. His parents were always supportive to his talents, although he never actually received formal training as a designer. He started sending sketches to famous couture stylists at an early age.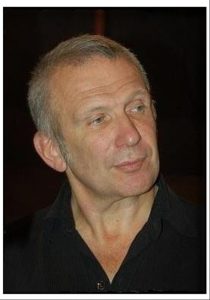 His first job was at the fashion house of Pierre Gardin, after school. Pierre Cardin was impressed by his talent and hired him as an assistant in 1970. The result was that he enjoyed working there so much that he brilliantly failed his final exams. Unfortunately soon after, being the most junior member of Cardin, Jean-Paul was made redundant because the house was over-staffed. He then worked briefly for Jacques Esterel, where he learned much of what was to become his signature style, and at the couture house Patou. He returned later to Cardin in 1974 and he was sent to Manila to represent the company.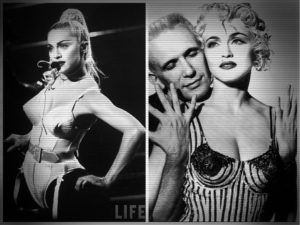 Gaultier caused shock by using unconventional models for his exhibitions, like older men and full-figured women, pierced and heavily tattooed models, and by playing with traditional gender roles in the shows. This earned him both criticism and enormous popularity. Superstar Madonna certainly agreed to his style as she commissioned Jean-Paul in 1990 to design her costumes for her Blonde Ambition tour, where he produced outfits including her trademark pointed basque and bra, a look he had previously shown on the catwalk.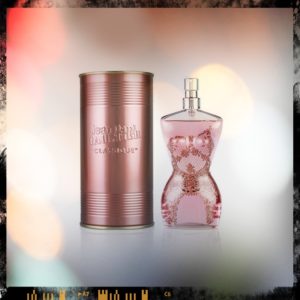 Jean-Paul Gaultier produced his first fragrance, Classique a women's floral-oriental perfume which was introduced in 1993, followed by Le Mâle for men two years later. Both were highly successful, and in 2012, Le Mâle was the number-one men's fragrance in the European Union based on sales; it also held a strong market position in Australia and the United States.
The reviews for the Classique claim that, it is a fragrance that promises pleasure. It is a perfume that is bold and sweet at the same time and as the designer said "When you wear the Classique, people will be able to recognize you with closed eyes!" Jean Paul Gaultier's perfume lays in the characteristic corset shaped bottle inspired by the Amazons, a recurring theme that has been his signature for the past forty years. The Classique is a beautiful floral oriental fragrance that is both aphrodisiac, regressive, warm and smooth with top notes of Rose, heart notes of Orange Blossom and base notes of Vanilla.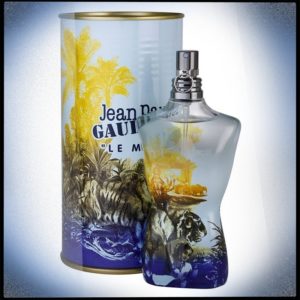 As for the other most famous fragrance Le Mâle , it is considered as a modern, warm, gentle and masculine fragrance which seduces with its uniqueness. It is full of contrast as the fresh mint which is the symbol of strength opposes to the vanilla which gives warmth and tenderness. Lavender adds the tradition which makes it absolutely irresistible to women. The orange blossom, the cinnamon and the bergamot just add the final touch which justifies why in 2012, Le Mâle was the number-one men's fragrance in the European Union based on sales while it also holds a strong market position in Australia and the United States.
You can find the Jean Paul Gaultier Classique 100ml Perfume for the price of 78€ (retail price is 103€) while Le Male Summer Fragrance 125ml costs 65€ (retail price is 92€) only at www.aphroditearoma.com. Aphrodite Aroma guarantees free of charge next day delivery! Mind you that if you are a new client, upon registration 10€ will be deducted from your purchase!
3,214 total views, 1 views today